I. Extraordinary life and death problems.

II. Paradoxical tesujis and strange manoeuvres.
III. Ladders and other incredible sequences.
IV. Semeais, sekis and pseudo-sekis.
Appendix A: some (badly connected) thoughts upon the "theory" of go problems.
Appendix B: a few tries at (almost) rigourous definitions.
<![if !supportEmptyParas]> <![endif]>
<![if !supportEmptyParas]> <![endif]>
III. Ladders and other incredible sequences.

Most of the sequences of this section are, one must admit, very artificial. But this doesn't make them less pretty (or less funny), and, as Cyrano de Bergerac says (in the Rostand's play) : "No, no, it is even more beautiful when it is useless..."

"If you don't understand ladders, don't play go", says the proverb. Well, they do not look so hard to understand, even if they relate to many subtle theoretical questions, such as the cost of pushing a broken ladder (as ko threats, say), which is estimated (to the astonishment of many players) to be 7 points for each extra stone. But in spite of Kageyama's warnings in the first chapter of "Lessons in the Fundamentals", every 10k player thinks he is able to read a ladder. Nevertheless...





Problem 1 : Black to play and punish White's hamete
(click here for an sgf file of the hamete sequence, and the solution)






Problem 2 : Black to play and awaken the aji
(click here for an sgf file of the joseki, and the solution)






Problem 3 : Black to play and force White (O Meien) to resign
(click here for an sgf file of the actual game, and the solution)


The invasion of problem 1 (it is detailed in this sgf file) is often played, against many handicap stones, by white players who don't suspect the extent of the punishment they could receive if Black really "understood" ladders. The old-fashioned joseki of problem 2 was carefully studied in Ishida's dictionary (I tried to show a few variations in this sgf file) ; in the good old times when it was still played in tournaments, the traps which appear (especially the ladder shown here) gave often to French players many pleasant results. Last (problem 3), the disaster which befall O Meien in 2000 while playing the first game of the 55th Honinbo tournament (here is the sgf file of the game) is clear proof that modern professionals are no longer ashamed of there (exceptional) off-days : after such a mishap, I believe a mortified Shusaku would have spent a few months meditating in a monastery, but O Meien just resigned the game (laughing out loud), then went on winning the next ones, and the title.





Solution 1 : the white stone is not a ladder break




Solution 1 (next) : it is a kind of squeeze






Solution 2 : here, the ladder starts on the first line






Solution 3 : the white wall is swallowed (O Meien didn't push for so long...)


On the other hand, you need not be ashamed of yourself if you fail to solve the following problems without trying sequences on the board...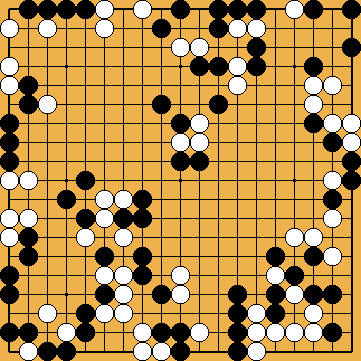 Problem 4 : White to play and save the SE corner group


Some professionals specialize in composition of spiral ladders crisscrossing the board ; problem 1 is a rather nice example, requiring some care in the beginning. These highly artificial labyrinths may look completely useless, but solving them with the eyes only is, at least, a tremendous exercise for one's eye muscles...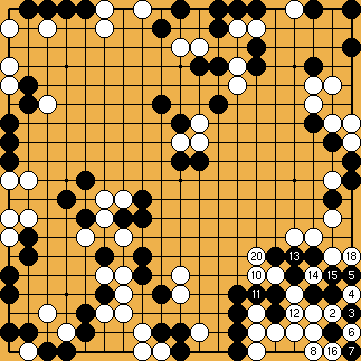 Solution 4 : I only show the ladder start ; click here to see the whole sequence


Many other wondrous sequences of this type have been created, Nakayama Noriyuki being an expert at figurative settings such as hearts, kanjis or year numbers... But I also found a few "engineered ladder problems", which are "only" improvements on known themes ; the most astonishing is probably the following :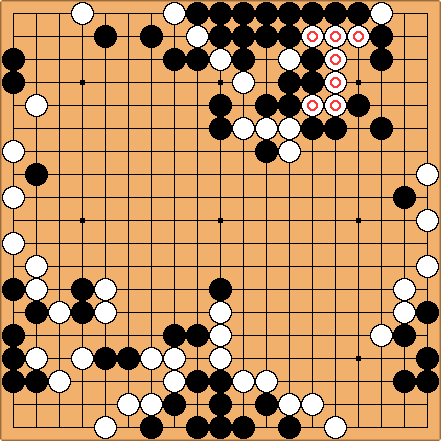 Problem 5 : Black to play and capture the marked stones
(click here for an sgf file of the solution)



This Genran problem (the Akubotsu Intetsu collection mentioned here) is an improvement on Dosaku's sacrifice (problem I.4.12) : the under-the-stone play (here turned towards the center) ends in a very windy spiral ladder.
| | | | | |
| --- | --- | --- | --- | --- |
| Solution 5 : a 14 stones sacrifice | | Solution 5 (next) : first steps in the ladder | | Solution 5 (conclusion) : did you read it to the end ? |
Now, for something completely different...





Problem 6 : Black to play and save
both groups on the south side with one move.




Problem 7 : Black to play and save
both groups in NE and SO corners with one move.
Problems 6 and 7 (classical problems from Xuan Xuan Qi Jing, whose refinements shown here were given to me by Pierre Colmez, and which one could almost believe come from real games) are ladder construction problems : in both cases, one or two groups can live if a specific ladder is not broken ; you must first find the ladder(s) (a quite tricky operation in the case of the NE group in the second problem, as Pierre and I discovered, during the summer of 2007 : a mistake had found its way into the solution diagram, which nobody had noticed... for the last twenty years) then play a move which "unbreaks" it (or them).


| | | |
| --- | --- | --- |
| Solution 6 (14 at 11, 16 at 5, 22 at 9, 74 at 71) : to unbreak the ladder, one must play in the most unlikely place ; one will then be treated to the pretty finish in double snapback Click here for an animated solution | | Solution 7 (10 at 7, 16 at 5, 56 above 55, 68 at 65) : here, two ladders must be unbroken ; the second ladder, as a bonus, is not really easy to start ... Click here for an animated solution |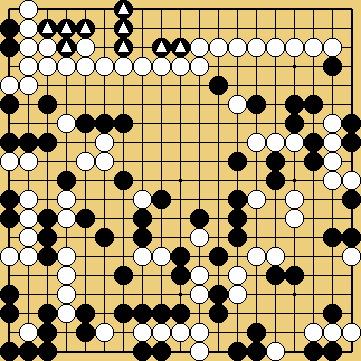 (?) Problem 8 : White to play and capture the marked stones


Problem 8 (which I found in Nakayama's book, but it was created by Hayashi Genbi, in early 19th century) is an incredible loose ladder ("path of two liberties" or yurumi shicho) crossing the whole board.





Solution 8a : starting point. Now, White find a surprising first line attack...






Solution 8b : ... which leads to a loose ladder




Solution 8c : conclusion. This is truly an astonishing composition ; to calculate this sequence (without putting stones on the board) really is quite hard, even for pros. If you didn't succeed, click here for an animated solution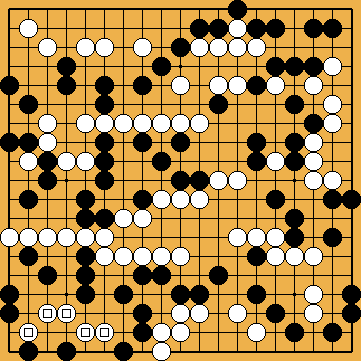 Problem 9 : White to play and save the marked stones


Problem 9 (from Hatsuyoron) is also (in some sense) a loose ladder, but I prefer to see it as an exercise in construction of dangos ("dumpling" : those amorphous and inefficient groups of stones French players call "pâtés", not as a reference to food, but to the "pat-a-cakes" of sand moulded by children on the beach). Quite often, as here, the Hatsuyoron problems are also tasks, i.e. they attempt to get the maximum effect of some theme : here, some of the dangos appearing along the way (for instance the 3x5 solid block in the center) are record-breakers, especially after looking at the initial reasonably light shapes. It is, however, almost impossible to show the complete solution with diagrams, so I give below an animated version...





Solution 9a : the starting point : big eye construction
(White has 9 liberties)






Solution 9b : the squeeze spills towards the corner






Solution 9c : first dango in the centre. Now what ?






Solution 9d : conclusion : one must be quite strong
to find his way out of this maze.
If you didn't succeed, click here for an animated solution


To close this section, here are the most astonishing seki construction sequences I have ever met (the one in Hatsuyoron, which will surely appear someday on these pages, is not to be scorned, but I feel it is slightly less interesting, if more correct, as the fights appearing in it are not so involved)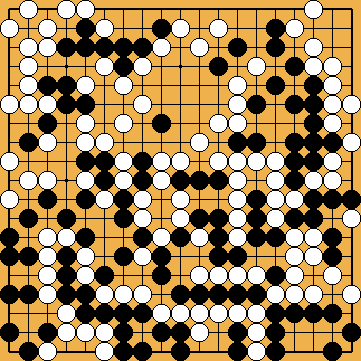 (?) Problem 10 (No Man's Land) : White to play; what happens if he tries to save the south side group ?


I met problem 10 (No Man's Land) on this very diverse site of problems for all levels. The caption lacks perhaps of rigor ("White to play and win the game" would be better...), and some mistakes could have entered this composition, but the fact that the author is a kyu player compensates for these possible weaknesses...



Solution 10a : seki for the moment. Now, Black attacks the outside groups






Solution 10b : there is still one playable semeai left






The end. It seems (but I didn't check) that this variation is a half point win for White... Click here to see an animated solution.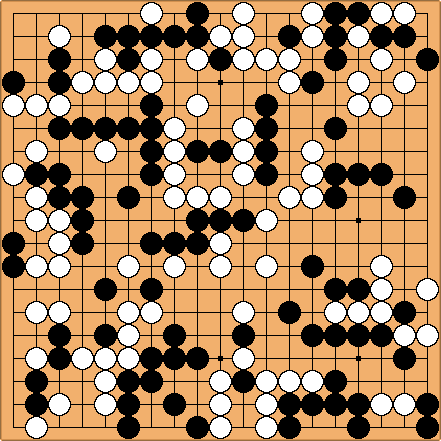 Problem 11 : White to play ; what is the result ?
(click here for an sgf file of the solution)


Problem 11 is the penultimate problem in Genran, and must be the best classical problem of seki construction. Here again, the caption is not clear (is White forced to start in the NW corner ?), and some mistakes might still blemish this masterpiece (for instance, I do not understanfd the order of moves in the center, nor the status of the SE corner); one will find more thoughts on this matter in the annex... A solution (not yet commented) appear in the associated sgf file.


| | |
| --- | --- |
| Solution 11a : the 10 first moves | Solution 11b : the end (if White doesn't play 2, he loses the fight in the center by one liberty) |
IV. Semeais, sekis and pseudo-sekis
The problems and positions of this section (and the following one) are clearly less interesting and beautiful that those shown before. But this is one of my pet subjects (I actually did compose some of them), and I could not resist the opportunity to present here some results that would surprise even professionnals (but probably would not really interest them much

) ...


A semeai ("race to capture") is a fight between 2 or more groups, both or all unable to live, which can only end by the capture of one of these groups, or by a stalemate equilibrium (a seki). Those definitions are not really satisfying for a mathematical mind, and I refer to the Appendix of this bestiary (once it is complete) for something somewhat more satisfying (Japanese rules connoisseurs know that to define completely rigorously the notion of seki is an almost impossible task, even if it is quite possible to get a reasonably practical definition)

1. Simple semeais and count of liberties

In fight between two groups, the one with more liberties wins the race... This "proverb for two-digits kyu players", already neglecting the possibility of seki, suffers meny exceptions, as we will see below.

As a starter, let us recall the first really interesting case of semeai. Can you guess who wins the fight in figure 1 ?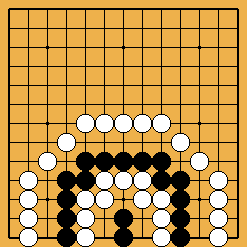 Figure 1 ("the house") : « is Black really ahead by 10 liberties? »

An useful proverb here is "3-5-8-12-17" (though, for a proverb, it does lack literary qualities), giving in turn the actual number of liberties of big eyes. Here, for instance, White has a 7-space eye, where two stones have already been played, meaning he has 17-2=15 effective liberties, which implies that the side beginning the race will win it (by one move) ; if you dont find this fact obvious, try to convince yourself by putting the stones on a board, or with the help of this animated solution.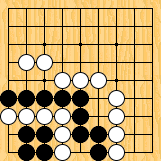 Figure 2 : in this case, White cannot really be confident of having 9 liberties...

These formulas will be useful in some of the following analysis ; one must nevertheless aknowledge they admit of a few exceptions, as some "big eyes" in the corner, like the one in figure 2, have to concede many of their liberties to prevent the formation of what James Davies calls "an eye in the belly" ; the observant reader will notice that this explains the possibility of the strange seki in problem V.12, and of the one in figure 3bis...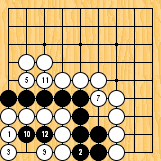 Solution 2 (4 at 10, 6 at 12, 8 right of 3) : actually, Black wins the race by one move

One of the consequences of the preceding formula is that it should be impossible to get a seki in semeais between groups with different-sized eyes, because the player with the bigger eye starts by filling all mutual liberties except one, then captures the inner stones (if any), getting back enough liberties to be able to fill the last mutual one and win the race. This is a well-known argument (with a corresponding Japanese proverb "o me, ko me", i.e. "big eye / small eye") and obviously irrefutable... except that, to our astonishment, it was refuted by Paul Drouot (in a game commentary, when he was only 2-dan), with the following position :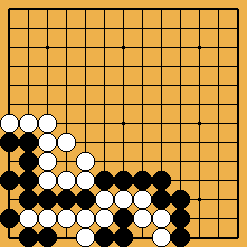 Figure 3 : does White's big eye break the seki ?

Don't worry : the other better-known proverb ("me ari, me nashi" = "one eye against no eye" = "in the land of the blind, one-eyed men are kings") looks secure (but will you still be confident of that at the end of this section ? The astonishing circular hanezeki of figure 13 could make you doubt). I thought figure 3 was a French secret, but I was surprised to discover it in the semeai book (Counting Liberties and Winning Capturing Races) published by the British Go Association.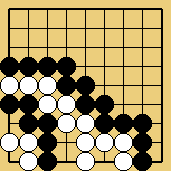 Figure 4 : a strange seki, courtesy of computer play...

Even if it is not exactly another refutation of the proverb, the semeai in figure 4, which could only appear in computer play (or with very weak players), and which I discovered in March 2008 while watching one of the "MonteCarlo" programs (the best-known of those being MoGo), is another instance of the same curious phenomena (i.e. that the owner of the large eye must reduce it in order to start the fight, losing his liberty advantage). This fight ends in seki, and its not even a complete one : by correct play, Black may (after the last significant moves have been made) win 9 points (in area rules ; Japanese would only count 6), while White is defenseless (of course, as soon as only 2 mutual liberties are left, Black must start the fight by capturing the 3 stones, and White must then pass, and not fill the tempting mutual liberties...)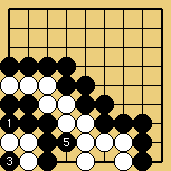 Solution 4 (2 passes, 4 at 2-2, 6 at 2-1, 7 above 3, 8 at 6) :If Black begins, she scores 9 points (the 6 prisonners, the destruction of the two eyes of the other seki, and the stone played at 1)

Except for the previous positions (and a simpler variant which we'll meet in the rules section), the only other unusual thing that can happen (to our present knowledge) in fights without ko between two groups is the hanezeki (and not 'hane seki', this common misspelling was pointed out to Harry Fearnley and myself by John Fairbairn) of figure 5 below ; this strange position, in which the marked stone cannot be captured without destroying the seki, is the main theme of Dosetsu's problem, where the stones in atari, but which are not actually capturable, create havoc in White position. One will note that it is, again, a consequence of the difference in liberty count between two eyes of different sizes, as capturing the external stone enlarges the opponent's eye when he recaptures ...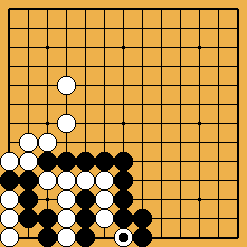 Figure 5 : hanezeki ; the marked stone cannot be captured.

Of course, semeais appearing in real games are not always as easy to count, as external liberties are not often already filled when the race starts. Moreover, some of those liberties may become hard to fill, as in the nice following problem: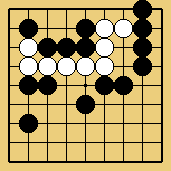 Problem 6 : Black to play and win the race

The corner group is dead (this is left as an exercise to the reader...), but, by threatening to live, and while having only 3 apparent liberties, it will win the race...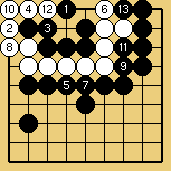 Solution 6 : actually, Black is one step ahead, as 3 approach moves are needed to fill the liberties...

When kos are involved, the semeai theory has been less studied (although there is often truth in the rule saying that one must capture the ko only at the end), but one must still look hard to find, if not truly paradoxical, at least really strange situations ; I discovered (during the spring tournaments of 2007) that fights with a "bent four" may depend of the exact structure of the external ko threats. In the almost identical semeais below, Black can win the game, but she must not play them in the same way ...



Semeai 7 : Black to play
and win the game




Semeai 8 : What is the winning strategy in this case?



To analyse correctly the fights on the left, one must first have a clear understanding of the position known as "bent four", see that if the ko is not played, White has 8-3=5 effective liberties, and not forget that there are in fact two different possible kos...



Solution 7 : Black can remove
one White ko threat, then...



... force White to play a
disadvantageous ko




Solution 8 : in this case, Black can
remove 3 ko threats...


and still have time to play the
other ko (advantageous to White), because
of her permanent threat (15 at 11)


2. Semeais between three groups

Figure 1 : a well-known seki
(how is it scored ?)




Figure 2 : "both dead, only one capturable"



Figure 3 : a difficult semeai


Fights between three groups can already become quite complicated. The seki in figure 1 is well known, even if many "older" players are surprised to learn that it is counted as two points for White in area rules like the AGA's, but similar positions (with bigger eyes) have strange behaviours : first, figure 2 ("both dead, only one capturable") is what I call a half-seki : White has no play left, as if he adds one move, he loses both groups ; Black may, whenever she wants (after the filling of dames, therefore) capture any group, but the other will then live (check it). If there are mutual liberties left, the situation is stranger yet : in figure 3, White has again no play left, but when Black fills a liberty, White must follow suit, to get at last a position similar to figure 2 (else, he loses both groups). By the way, these positions could also appear in the rules section, as it is hard to argue against the fact that both White groups are dead, a status which is not, for Japanese-style rules, easy to manage and still get a sensible score of the position...


Figure 4 : a complete seki


Figure 5 : what is the difference ?



Figure 4 displays a new type of complete seki (i.e. a position where adding even one move breaks the seki) : the stones in atari cannot be actually captured, as the semeai is then lost by the taker. Curiouser and curiouser, the position of figure 5 (found by André Moussa and myself in 1985), which appears similar, is in fact another kind of half-seki : White cannot do anything, but when Black captures the square block, and next the other 4 stones, White has no time to kill the second group, and must compromise to a new seki, while Black has scored 11 or 12 points, depending on the rules (by the way, if Black erroneously starts the fight by taking the T-group of 4 stones, she loses all her groups ; this quite counterintuitive behaviour is the reason I gave 3 's to the position). To conclude, there is no possible seki between 3 groups with even larger eyes : the player with the bigger eye is enough liberties ahead to win the race ... except in a completely artificial case, discovered by Harry Fearnley in Summer 2005, and shown below (figure 7): in this position (as in figure 2), White's big eyes are smaller than they look...




Figure 6 : a surprising complete seki




Figure 7 : another half-seki :
White cannot win the semeai, but may capture both black clumps...



UPDATE ! (summer of 2010) I thought I understood completely the behaviour of those fights when, in 2010, I discovered figure 6, which is another complete seki, but in a quite surprising way : if Black add a move, she loses all her groups, but if White plays, Black reverts the position to figure 5, then scores 11 or 12 points...



Figure 8 : an asymmetrical seki



I discovered in August 2004 the strange complete seki of figure 8, a refutation of one of my conjectures (I thought that the two white groups had to be of the same eye size). Are there other similar oddities yet to be discovered ? Is something even stranger than the hanezeki still lurking somewhere ?
3. Four groups and more
| | |
| --- | --- |
| Figure 1 : 3 complete sekis | Beyond that, as fights with four or more groups have low probability of appearing in actual games, the following examples (some of them byproducts of the mathematical theory developed by Vladimir Gurvich) would look artificial and uninteresting if they didn't allow new counterintuitive phenomena to appear : first, the three wheels of figure 1 are complete sekis ; this looks absurd, as one goes from one to the next by filling liberties, but I let you check that instead of following suit, the second player can then in each case win the semeai (as a completely off-topic aside, I discovered also that they give rise to a strange optical illusion ; I can assure you that these positions are perfectly square, in spite of what your eyes tell you) |
| Figure 2 : mock sekis (sacrifices are playable in two of those positions) | The three tangled positions of figure 2 look like complete sekis ; but it is in fact true only for the first one, as a new possibility appears : both players may sacrifice one of their groups to capture another ! This is why the third position is a win for Black (by sacrificing the corner group), and the second one is a complete seki, but only because if one player tries to break it, he loses two points... |